Thursday, August 23, 2007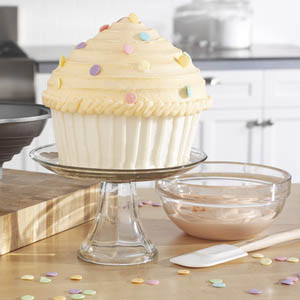 Sometimes, bigger is not always better (Tara Reid's boobs, Jersey Girl hair, Paris Hilton's old engagement ring).
Then again, sometimes bigger is better, like with Wilton's new Giant Cupcake pan. Rendered out of oven-safe cast iron, this two-part pan allows for a cupcake shaped bottom and mound to be cooked together, then assembled like a really huge cupcake. The finished effect is something like a realized childhood dream.
Comments Off
Print Article
Email Article
Share
tagged
Wilton,
cake products,
cool products